Posted by rphilcolon on March 9, 2020
---
Winner of the iUniverse Editor's Choice and Rising Star Awards!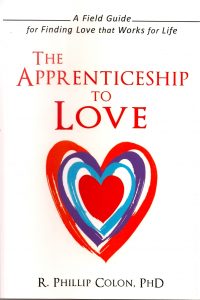 Great Gift For A Friend!
The Apprenticeship to Love: A Field Guide for Finding Love that Works for Life
by R. Phillip Colon, Ph.D.
This book offers a step-by-step program for those who feel like a casualty of past relationships, to seek and find a viable life partner for life. This instructive and inspiring guide offers hope and direction for readers who are fearful at the prospect of re-entering the dating scene and finding love again. Numerous examples throughout the book allow the reader turned "apprentice" to learn from the mistakes and successes of others. Even if the apprentice is nowhere near ready or wanting of marriage, the book provides a pathway for him or her to heal, meet new people, learn about relationships, and have fun in the process.
Available in hard cover, paperback and E-Book formats, the book can be purchased at:
---